Welcome
2021 International Conference on Advanced Control, Automation and Robotics (ICACAR 2021) will be held in Shenzhen, China on March 25-27, 2021.
In recent years, we have seen exciting new researches and developments on advanced Control, Automation, and Robotics. The computer and control technologies, intelligent control, robotics, and automation, are transforming many aspects of our industry, government, health-care, and society. Machines are becoming smarter thanks to computer and control algorithms enabled by intelligent control and artificial intelligence. These new developments have revolutionized industrial manufacturing, transportation, and health and societal care. Together, advanced control, automation, and robotics. are making our life so much more convenient and enjoyable.
The International Conference on Advanced Control, Automation, and Robotics (ICACAR 2021) aims to bring together researchers, engineers, scientists and industry professionals in the areas related to advanced control, automation and robotics in a single platform and to present their stimulating research and knowledge transfer ideas in both advanced control, automation, and robotics. Leading researchers and industry experts from around the globe will present the latest studies through oral or poster presentations. ICACAR 2021 welcomes new research in the areas of advanced control, automation, and robotics, such as intelligent control systems and optimization, robotics and automation, signal processing, sensors, systems modeling and control, industrial engineering, production, and management, artificial intelligence. However, we also recognize that the future for advanced control, automation, and robotics scientists and engineers is one where they will be working in interdisciplinary teams to solve new, complex, and evolving problems that will require innovative solutions. Therefore, we encourage the participation of other disciplines in this conference where multidisciplinary research and knowledge transfer projects are presented.
On behalf of organizing committee
Prof. Dr. Juntao Fei (Chair)
Hohai University, China
Submission
Only original papers will be considered, it means that the manuscripts must not be previously published or accepted for publication elsewhere. must not be under review by any other conference or publication during the review cycle.
Submission Methods

1. Authors are invited to submit abstract/ full paper using the On-line Submission System, please refer to the detailed guideline for online submission system.
3. You can submit your manuscript through our conference email icacar@iased.org as well, it will be processed much faster.
4. The authors' name, affiliation and other personal information don't have to be covered, when you submit your manuscript, we will cover or remove them before reviewing processes.
After submission, your mailbox will receive our confirmation letter within 3 working days, if no any response due time, please check your spam folder or send us email icacar@iased.org, this email will answer all problems about submission as well.
For detailed paper format information, please down here: Paper Template and Abstract Template
The sketchy processes follow

All submitted papers will go through a double-blind reviewing process by at least two reviewers drawn from the chairs of committees, also if you don't want to publish any paper, you are welcome to join us as a presenter, listener, etc.
Committee
| | | | | | |
| --- | --- | --- | --- | --- | --- |
| Juntao Fei | Victor M. Preciado | Juan Rodríguez | Abdulrahman A.A.Emhemed | Eduardo Escobedo | Emese Kardoss |
| M. Reza Shadnam | AIDY ALI | Seppo Sirkemaa | Oleksandr Tsymbal | Amar REZOUG | Sandro de Serpa |
Best Awards of 2020
ICACAR 2020 has been held successfully online on 25-27 May 2020, the best awards as follows:
Peng Guo(Shanghai Jiao Tong University, China)
Automatic profile tracking of deformed surface in mirror milling based on ultrasonic measurement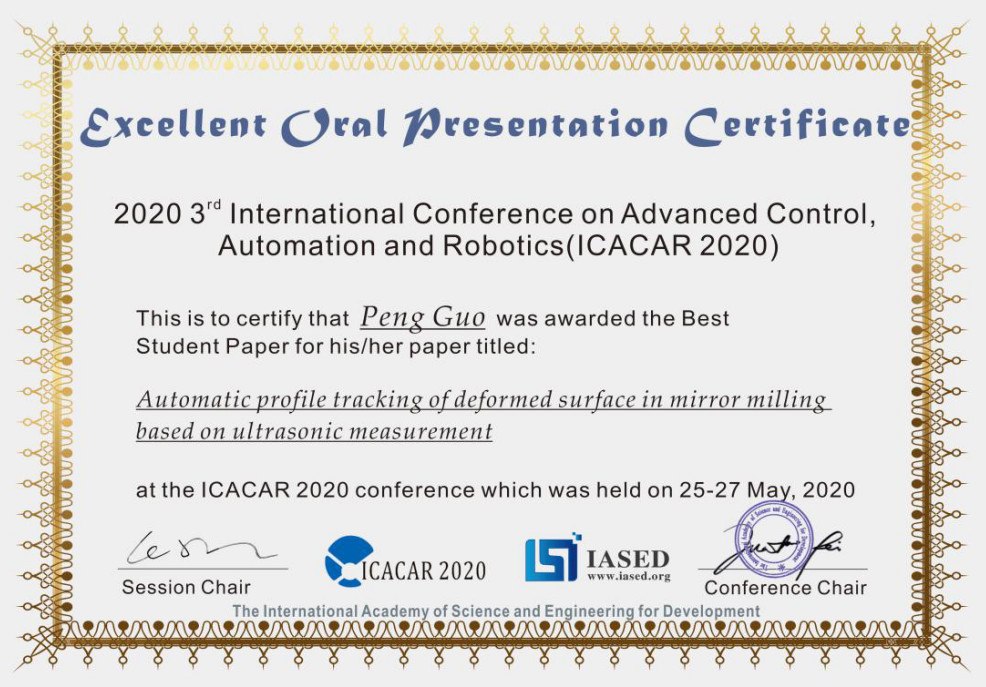 Poster Presentation Guildline
Poster Size: A0
Posters are a key component of communicating your science and an important element in a successful scientific career. Posters, while delivering the same high-quality science, offer a different medium from either oral presentations or published papers, and should be treated accordingly. Posters should be considered a snapshot of your work intended to engage colleagues in a dialog about the work, or, if you are not present, to be a summary that will encourage the reader to want to learn more.
The poster is usually a mixture of a brief text mixed with tables, graphs, pictures, and other presentation formats. At a conference, the researcher stands by the poster display while other participants can come and view the presentation and interact with the author.
Venue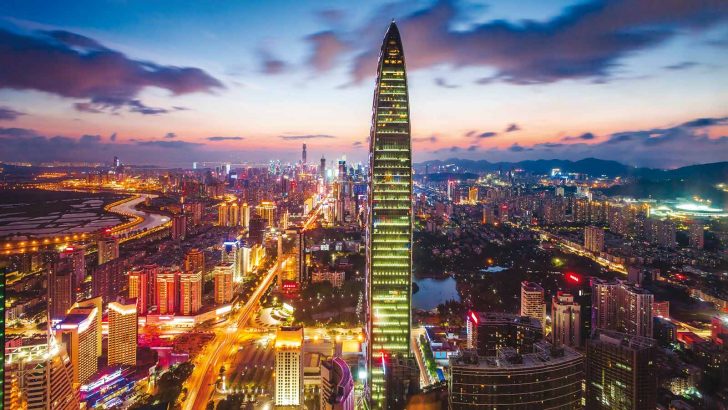 Shenzhen, China
Key Dates
Abstract Proposals are due by 10 Jan. 2021

Full Paper must be received by 20 Jan. 2021
Final Notification will be sent before 10 Feb. 2021
Final Registration for all presenters is before 25 Feb. 2021
Final Paper must be received by 25 Feb. 2021
Main Conference will be held on 25-27, March 2021
Abstract submission extended, authors who wish to submit an abstract for presentation at the conference, please send your abstract to icacar@iased.org directly before 1 Feb, 2021.